About Us
CNC Machining and Aerospace Assemblies
Hansen Engineering Company is a manufacturer of precision NC machined multi-axis parts, assemblies, and major structural assemblies. HEC specializes in complex MDI surface geometry, statistical process control and electronic probing of part surfaces. Hansen is an approved ATA supplier for Spirit Aerosystems on the 737 next generation aircraft program. We have also become a supplier of major structural assemblies for the Boeing 767-2C tanker program including the Pressure Box and the Boom Fairing.
Our quality system is designed to satisfy two primary objectives. The first objective is to maintain a quality system compliant to BQMS D6-82479, AS9100:2015 and ISO-9001:2015 as a basis for current and future requirements. The second objective is to define and implement a company focus that aligns the activities of all employees with customer satisfaction through continuous quality improvement in all activities, products and services.
We have a total of 39,000 sq. ft. of manufacturing and office space located in the Los Angeles, California area. Both, the Los Angeles International Airport (LAX) and John Wayne Orange County Airport, are in close proximity to our facility. Hansen Engineering employs approximately 54 employees, and maintains two daily work shifts, 5 days per week. HEC specializes in precision 5-axis machining from hogout, forging and extrusion. We run parts from titanium, inconel, steel, aluminum, and most other alloys.
Please also see our statement regarding
Contact Us today for a quote!

HEC Capabilities
CNC Machining and Aerospace Assembly:

3 Axis: 144″ Length
4 Axis: 100″ Length
5 Axis: 160″ Length

CAD / CAM
Production
Welding
Prototype
Tooling and Sub-Assembly
Major Structural Assembly
High-Speed Material Removal
Recent Awards & Recognition
March 2014
Boeing 767-2C Recognition for Hansen's achievements on the Boom Fairing and Pressure Box support for the all new redesigned 767 military aircraft. Several representatives of the program came from Seattle to thank the entire HEC staff for their combined production efforts.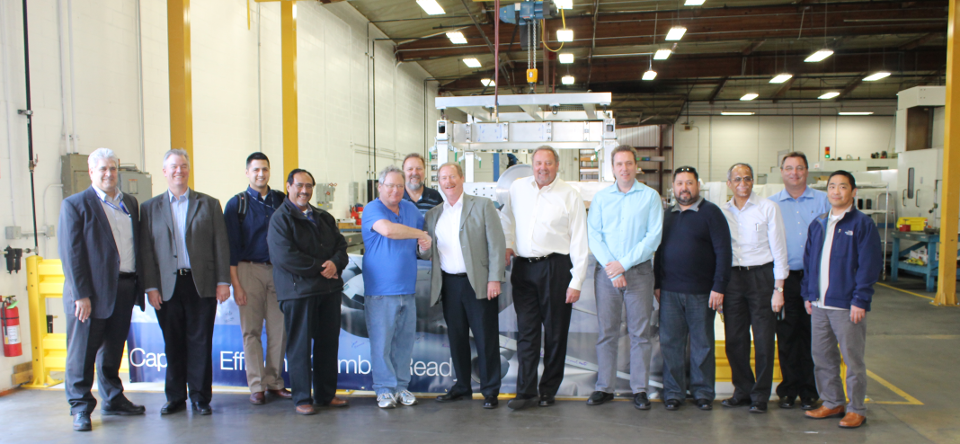 September 2012
Hansen proudly received a Performance Excellence Award from The Boeing Company recognizing Hansen's outstanding performance in quality and delivery throughout the year.